Last week, I was privileged to be invited to tour and shop the very first Indigo store in the U.S.!
For those of you not yet familiar with the brand, Indigo is a lifestyle shopping destination with a mission to inspire families with life-enriching products and experiences. After twenty-one years as Canada's pre-eminent lifestyle retailer (and leading bookstore with over 200 locations!), it's finally come to the U.S. with it's first store located in The Mall at Short Hills — and believe me when I tell you, the store is stunning.
When I first stepped inside the store, I was absolutely blown away by its size (30,000-square-feet!) as well as the variety of products offered. Despite having an incredible selection of reads (I'm talking the most beautiful coffee table books, best-sellers and an insane children's section), Indigo is so much more than a "bookstore;" items are smartly organized into several shops-within-a-shop, including but not limited to: books, home décor, kids, wellness, cooking, fashion, and tech.
I was immediately drawn to the home décor, kids, and baby sections (shocker) — but I honestly think that Indigo has something for nearly everyone and I can totally see my husband spending hours inside. And, of course, back to the books! The space is filled with curated collections of fiction and nonfiction, but what I really loved were the gorgeous coffee table and cooking books displayed throughout the store. I had to practice some serious self-restraint and not pick up a copy of each and every one!
See below for photos of some of my favorite sections of the store:
There is even a special "Gifts" section stocked with handpicked items from employees for nearly anyone on your shopping list (and I'm told that this section will be updated regularly to include new gift ideas).
I definitely went a little crazy and picked up a bunch of goodies for myself, the kids, and family and friends (some of which were from the curated gift section). Here's a little peek at a few of the items that I brought home:
The cutest board books for Jacob and the baby…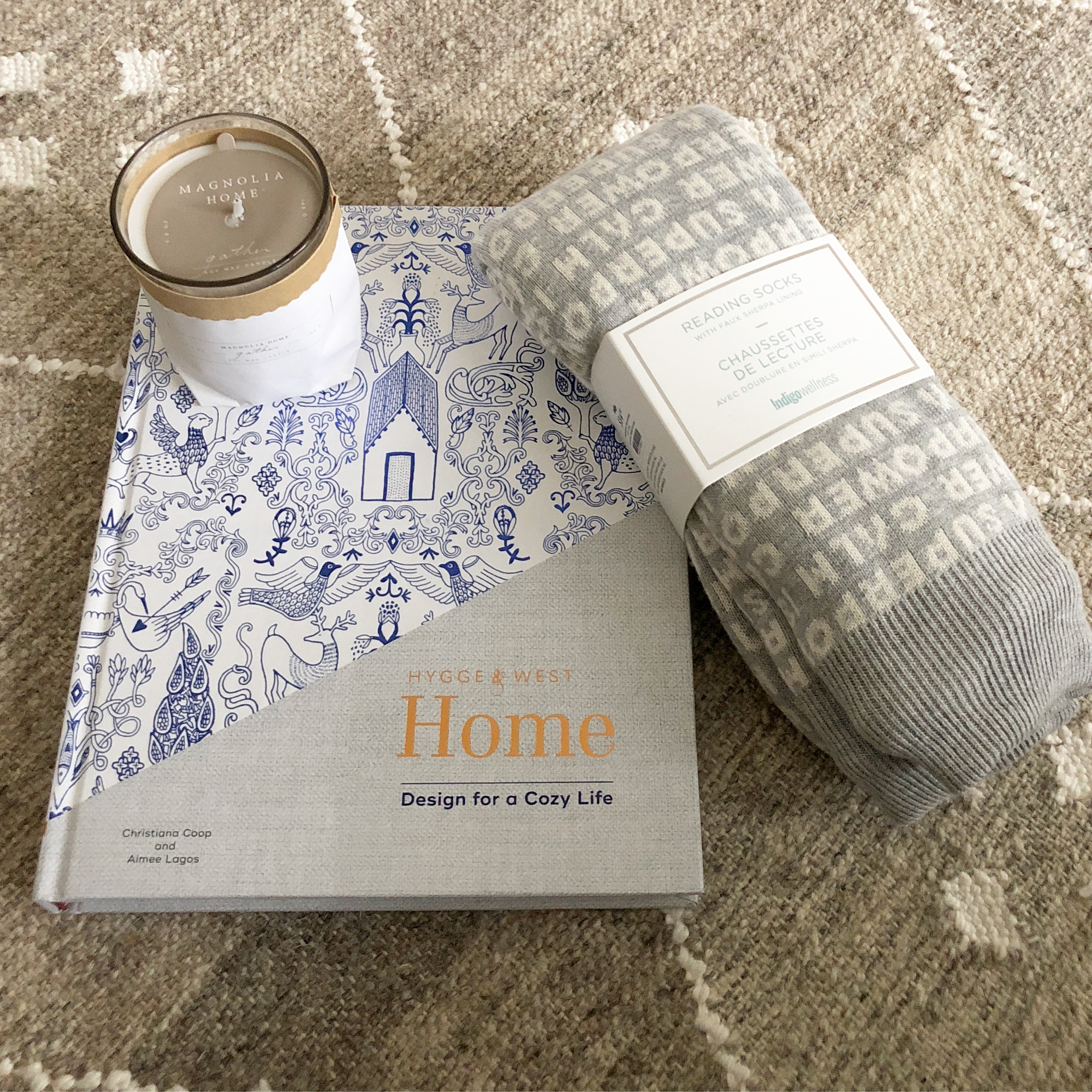 Some goodies for me (the newest Hygge&West book, an amazing candle from Magnolia Home, and a pair of "reading socks")…
What are "reading socks," you ask? Oh, just the softest, coziest socks you've ever seen. The store is filled with a ton of different styles for men, women and kids and yes, you need a pair immediately…
Jellycat stuffed animals for Jacob and baby, as well as a few items from Pehr Designs (like this darling star rattle and pom pom bin) because I just couldn't help myself. Indigo's baby section is stocked with some of my favorite brands…
A beautiful notebook and set of pens because having something pretty to write in (and with) makes doing work that much easier. The paper-goods section of the store is spot on and filled with gorgeous notebooks and stationery….
And last but certainly not least, this hairbrush and mirror compact for my purse because it's always a good idea to look half-way decent when you're on the go.
I promise you I'll be shopping here regularly and for anyone local to the Tri-State Area, I'd recommend checking out Indigo Short Hills!
To celebrate the opening of Indigo Short Hills, the public is invited to attend a special weekend of family-friendly grand opening events on October 27- 28.
For a full calendar of upcoming events, and more information on Indigo, please visit indigoshorthills.com
*This blog post is brought to you by Indigo.